From 25th to 27th January 2019 the initiative for a women's museum in Canada, represented through Darlene Clover, Nancy Taber, and Kathy Sanford, invited the coordinator of IAWM to the workshop in Lisbon:
Feminists and feminisms in museums and art galleries:
International knowledge exchange and engagement with common research issues
It was the goal of the workshop to present and discuss research ideas and findings, which are still in progress.
Emilia Ferreira (Portugal) – Welcome to Portugal and NMCA
The host of the workshop Emilia Ferreira, director of the National Museum of Contemporary Art in Lisbon gave us a warm welcome. In the opening notice she explained very clearly what it means to be a feminist director of a national museum. Especially of a national museum with a special status, because it was one of the first museums of contemporary art in the world. As feminist director she is looking at her daily routine from a feminine point of view.
This year she is planning five exhibitions around female topics. She herself has researched gender in Portuguese museums and sent 5 questions to 31 university professors. The outcome was, that men do not include gender as a category in their thinking, if someone is doing that, it is women. Women and men have different languages and gender is often a non-issue.
Emilia Ferreira, Monteiro, & Moreira – The invisibility cloak: Are museums and collections still veiling women artist's work with disinterest and demeaning words
Emilia Ferreira conducted this research together with her two colleagues Monteiro and Moreira.
Moreira is a visual artist, researcher, and mediator and works at the National Museum of Contemporary Art in Lisbon. She took a closer look at the statistics of the museum from 1994 until today. Since there was a fire at the museum in 1994, the statistics are only available from that year onwards. So she found out that since 1994 there were 132 individual exhibitions in total, including only 29 shows from female artists.
In the 75 group exhibitions at the museum, artworks of 1527 men were exhibited and only artworks of 290 women. Women on the other hand were often invited to contribute to issues like feminism, lesbian people, and gender. Often because they were friends with famous male artists. Since 2001 the museum has been purchasing more and more artworks from women, but the numbers are by far not equal. A significant change was reached only in 2017 and 2018. Through Emilia Ferreira becoming director of the museum in 2018 the museum purchased as many artworks from women as from men. It was also noticed that women usually were over 60 years old, before their works entered a museum. Men, on the other hand, often were only 20. Fact is, that today the collection with 5000 artworks includes only 7% of female artists, and the gender gap in the museums is still considerably high.
Montero, on the other hand, reported about an exhibition in a convent, but also about her research in art galleries around Portugal, where the findings were very similar to the ones of Moreira.
Astrid Schönweger (Italy) – International Women's Museum Association
Astrid Schönweger presented the International Association of Women's Museums (IAWM). She defined the term "Women's Museum", discussed why and when women's museums were founded all over the world and what they are doing today. She presented the work of women's museums through examples by member museums of IAWM with a special look on the question: "How do women and gender-oriented museums differ from other museums and places of memory? What is their contribution to cultures of remembrance?". This was the topic of a workshop held at the conference "Feminist Pedagogy" organized by the Women's Museum Istanbul and Sabanci University in October 2018.
Laura Formenti (Italy) – Unexpected audiences: Four paths for a dream of life
This was the presentation of the outcomes of the research, which is still in progress, of Laura Formenti, Gaia del Negro and Silvia Luraschi (Italy). They work with a photo collection of Donata Pizzi, a woman photographer (1965 – 2018). In the beginning the work started with 30 students and now the three researchers themselves continue with the auto-ethnographic dialogue. She concludes: The images change within time and the look of the visitors.
Darlene Clover and Kathy Sanford (Canada) – Fashioning women, defrocking patriarchy
Darlene Clover and Kathy Sanford presented their research about gender in fashion exhibitions and fashion museums. They show quite precisely that most of the time the museums and exhibitions are not aware of the category gender. The researches used the women's museum Meran as an example where the close interrelation of gender roles and fashion is displayed. They also refer to an exhibition about barbies in a supermarket in Canada that centers on gender roles and how they are constantly reconfirmed in our society.
Lisa Merriweather (USA): Racialized gendered literacy: A racial realist reading of museum space of the African American female
Lisa Maryweather's research centers on the intersection of gender and race. She raises the question: If gender is already a problem in our society, what about race, and what about the combination of both of them? Gender studies show that women do not have equal visibility and representation in our patriarchal society. However we need to recognize that women of color are not represented at all – neither in culture, art nor in history.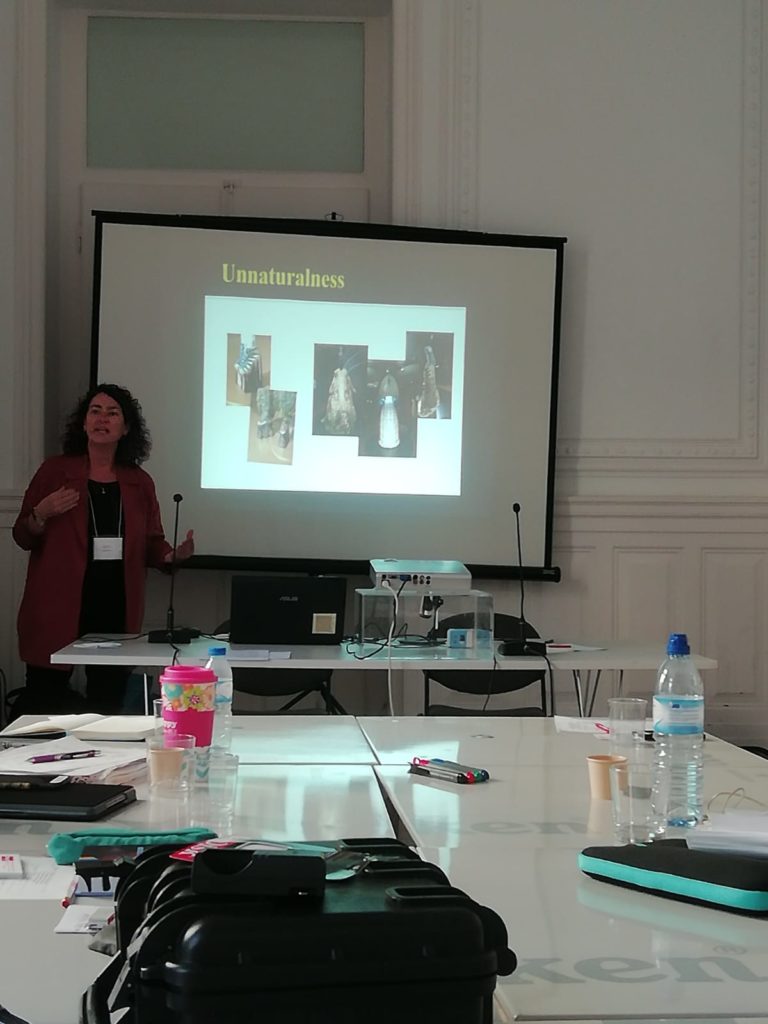 Sarah Williamson (UK) – Barbie Hack and Exploring societal gender representation and (in)justice through visual and text-based collage enquiry in a gallery setting (including group activity)
The art activist Sarah Williamson draws the attention to a project on Twitter: Art Activist Barbie. The project consists in a Barbie figure that is placed in front of artworks in museums and galleries and wants to trigger discussions.
Williamson works with the collage as a method in order to reflect on gender and art. This project is currently in progress.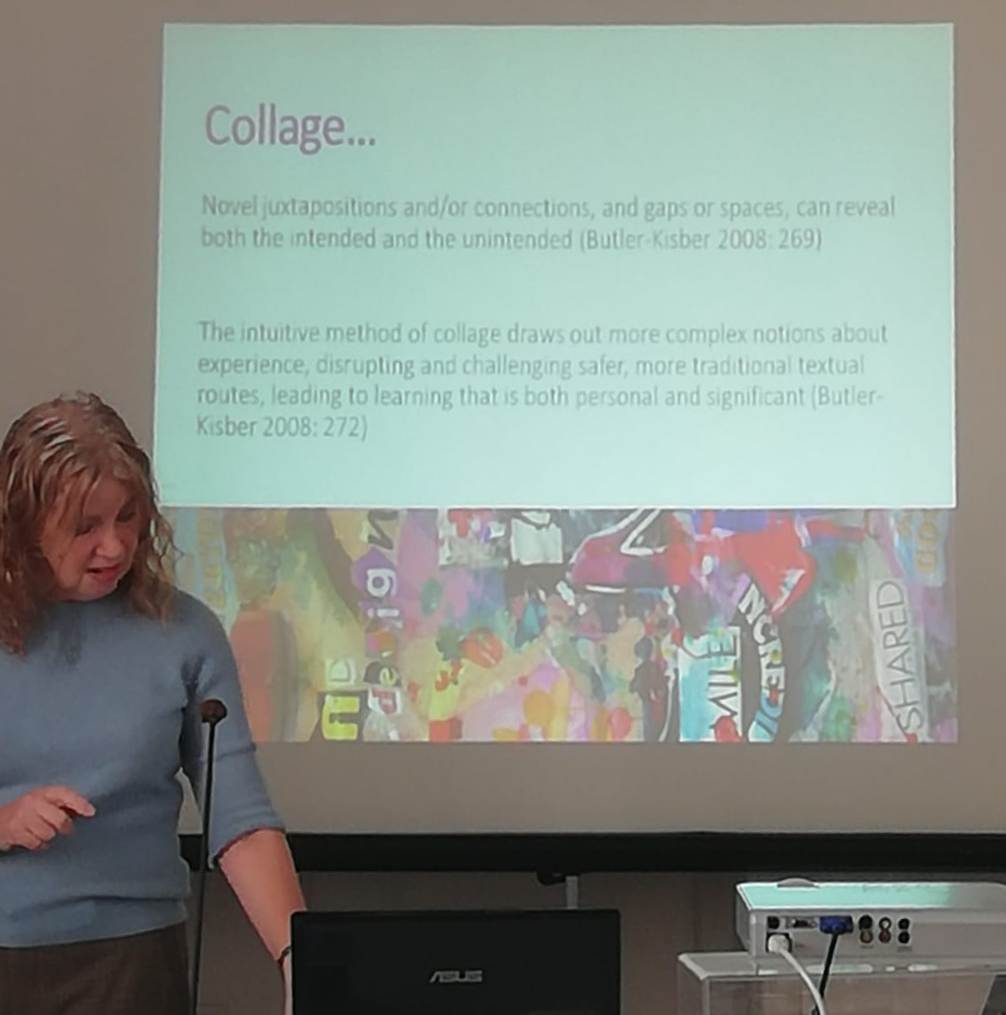 Nancy Taber (Canada) – Military heritage sites: Women's war work, castles, and fortresses
Nancy Taber presents her research in the Military Heritage Fund. She is taking a close look at where the women in the Military Heritage Fund are, who those women are, how accessible this structure is for women, and how this is interpreted. She mentions the important fact that "Active learning is asking questions".
Jennifer Thivierge (Canada) – Canadian women in STEM: A history
This is the analysis of an exhibition in the Museum of Natural History in Canada. Jennifer Thivierge notices that it is the narrative of science that the single researcher is representet as a genius also if that is not the truth, because research is always a group thing. Even though the museum includes Canadian women in stem, it is not a feminist exhibition. The word feminism is not used in the exhibition and only a few displays trigger a discussion. The exhibition is also not permanent. For example it is being removed during the Christmas celebrations.
It is still like this, that when you tell a 4 year old child to draw a scientist, then 97 % draw a man. Jennifer Thivierge is thinking about creating a virtual exhibition about women in STEM.
Ash Grover (Canada) – Decolonizing discourses on Niagara Falls: An analysis of feminist praxis in the exhibit 1779
Ash Grover is combining the decolonizing and feminist practice. Under this aspect she took a close look on the exhibition on Niagara Falls: "Through an artistic practice that encompasses methods public pedagogy and feminist decolonization, Kia Niro has sought to design and curate an exhibit which is deconstructing a colonialist and unjust historical narrative. She accomplishes this disruption through the juxtaposition of lived, embodied pedagogy surrounding the geography of Niagara Falls and the Grand River against traditionally perpetuated settler narratives."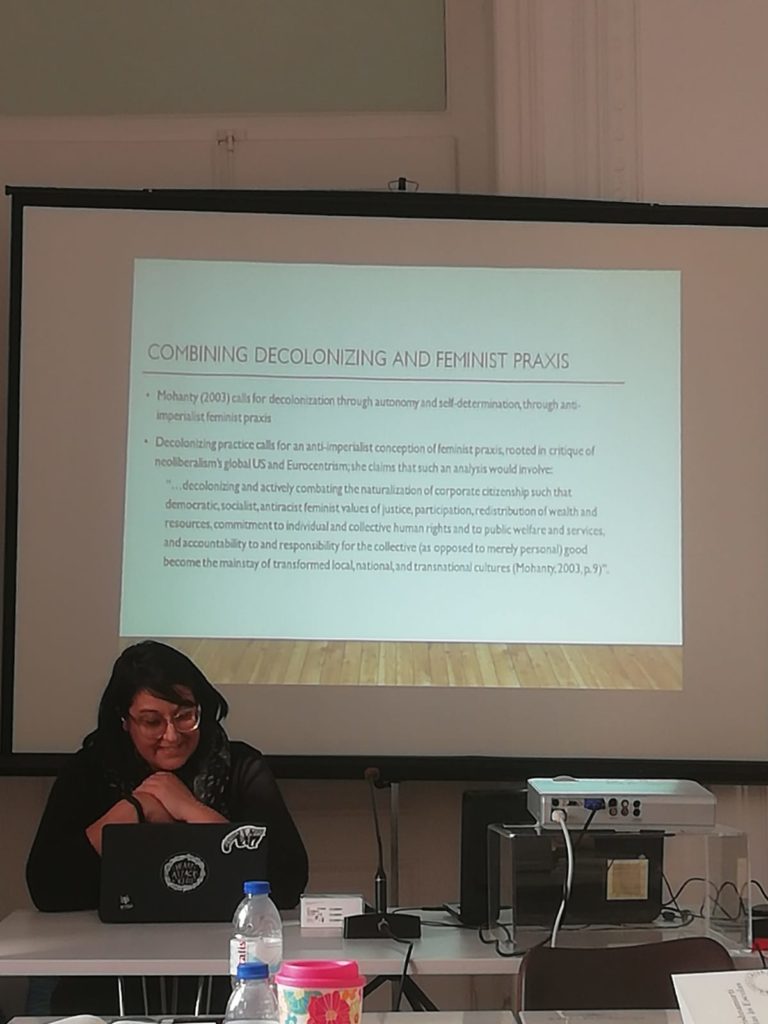 Shelly Henehan & Micki Voelkel (USA) – Infinitely obscure lives: Invisibility of women in a U.S. historic site
They did a pilot study of the Feminist Museum Hack on the Fort Smith National Historic Site in Arkansas (US), where on the one hand many women were mentioned only as attachment to men, without appearing with their own name. And on the other hand, female outlaws were presented very carefully. Henehan and Voelkel collected the questions they posed to themselves during the research and discussed them afterwards with two groups of students.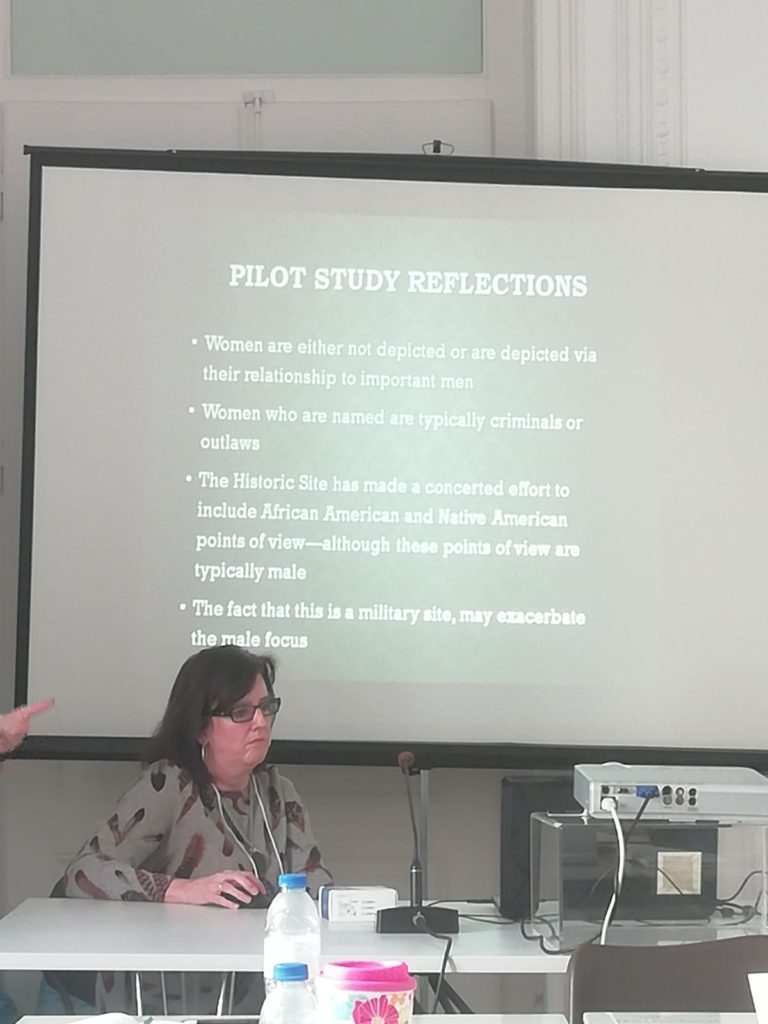 Alexis Johnson (UK) – Beneath the invisibility cloak
Alexis Johnson explains that women, even if they are successful in their career, they still face a lot of obstacles and very often resign. She developed a pedagogical approach with the goal to lift the invisibility cloak from women in the work of the cultural field.
All – Museum interventions, methodologies, pedagogies: Museum visits
All the participants of the workshop practiced the Feminist Museum Hack by entering in different museums in Lisbon and assessing the gender aspects in the exhibitions.
Astrid Schönweger and Darlene Clover – Global Feminist Museum Hack
A possible realization of a Global Feminist Museum Hack in cooperation with IAWM was discussed. This idea was perceived very positively by the participants. Darlene Clover will prepare a framework and discuss this further with Astrid Schönweger.
All – Mapping out research dissemination, future grants, and closing
It is planned to make the research outcomes accessible though publications. The work of IAWM and women's museums around the world will be included in the publication.
We also discussed possible exhibitions and it was proposed that the IAWM website could possibly be the place to show a virtual exhibition.
For IAWM this workshop was the beginning of a very interesting collaboration with an international network of university professors and researchers in the adult education field.