In times when many museums worldwide are forced to keep their doors shut, we invite you to engage with exhibitions and collections of women's museums virtually. On this blog we will share with you online exhibitions or virtual views into our member museums worldwide.
The Women's Museum Meran presents the blog ichfrau iodonna: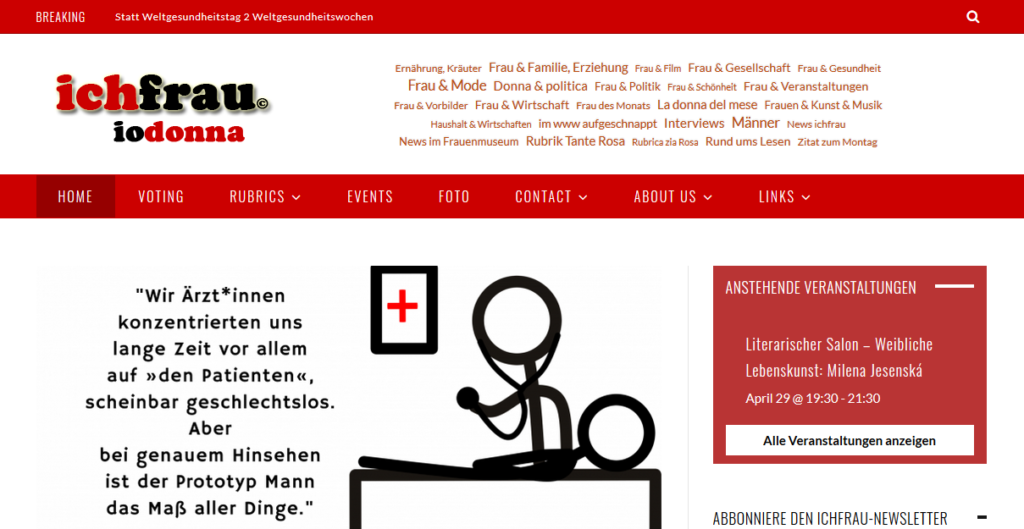 We – the women from the Women's Museum Meran – were thrilled to take over this already existing blog in 2016. We posted, we networked, and then it happened: A large part of our posts disappeared into the void and it was as if someone had pulled the emergency brake and the car was no longer easy to start.
But we would not be who we are if that stopped us. After all, we work in a women's museum and know from experience that a good thing takes time. Anyone who works in women's projects needs ongoing motivation.
We have been back since April 2018 and we are motivated as ever.
What can you expect on the blog?
3 posts per week with information on women and gender issues. Let yourself be surprised what we tell you!
Plus, information on the Women's Museum – insights into our world, information about the events and a peak behind the scenes.
And many other rubrics that should enrich this blog: The woman of the Month, Monday Quotes, #TanteRosa – the monthly blog about the period and menopause, the presentation of other blogs by women, and #frustmachtlust – the ranting blog ?.
Since then we have been putting our joy, our ideas and our creativity into the blog ichfrau iodonna. We want to get involved, get to know people, spend time together, and speak about topics that are relevant to women.
The ichfrau team