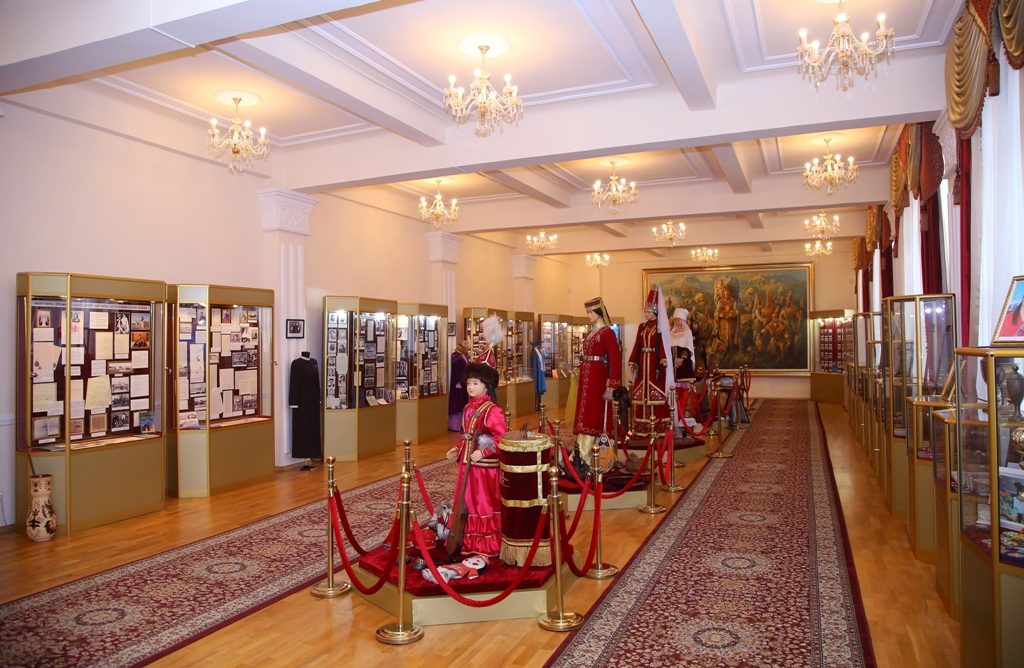 Kazakh State Women's Teacher Training University is one of the country's distinctive universities. Founded in 1944, a difficult year for the country, today the university is bearer of knowledge, culture and values. More than 6,500 girls are educated and trained here, who have determined their life's work to the profession of the teacher.
The Historical and Ethnographical Museum «Aktumar» («White Amulet») was founded in 2002 and functions in accordance with the State Program "Cultural Heritage". It aims to form a national outlook of Kazakh women, create sense of national purpose and patriotism among students, and promote the historical path of the university.  
The museum exposition consists of five sections:
The behests of Mothers – the heritage of the nation: presents the lives and history of women that left their traces in the history of Kazakhstan;
The history of the University;
Women's world: presents the national costumes, jewelry, women's handicraft, etc;
Women's art;
The role of a woman in a society.
In the compositions and national costumes you can particularly see the traditions of the Kazakh people, which represent the good artistic taste of masters, and where the refined and gentle image of Kazakh girls is emphasized by ethnographic items.
Section "Women's art" presents the legends and stories about heroism and moral qualities of Kazakh women, epic-lyrical works that tell about the first Kazakh women in science, education and cultural life.
Section "The role of a woman in a society" presents the wisdom of Mothers, who left an invaluable trace in the history of the country, sacrificing themselves, in preservation of the unity of the nation.
In addition, the documentation of women's participation in politics, state authorities, economy, business, protection of mother's health and the childcare, protection against violence is presented among the exhibits.
Today, museum «Aktumar» is reimagining the concept of women's history and a new global generation of women in Kazakhstan. Its new vector of development is elaboration of virtual museum. While there can be no replacement for the original artifact, a virtual museum could give access to a wider context of the national image of Kazakh women and the history of the Women's Teacher Training University. Therefore, the museum is going to be developed further and is dedicated to becoming a virtual museum, with global online exhibitions and pop-up events and installations around the world.