Best Female Friends
In 2018 the Women's Museum Bonn showed the exhibition about female friends under the emancipatory aspect. In this virtual exhibition we selected some examples of good friends from the exhibition in Bonn and we invited the members of IAWM to present an important pair of female friends from their country or in the context of their museum.
Female friendship often had an essential importance.Together, friends were more likely to find new ways to circumvent prohibitions and male control. They educated each other further by reading conjointly, founded the first women's associations, and fought together for more rights. Bettina Bab, curator of the exhibition in Bonn, believes without good friendships between women, the first women's movement would not have existed in this form. The Women's Museum Bonn would not have survived all problems without the support of good friends. In any case, friendship is vital even in crises such as the current Corona epidemic.
Please click on the images in order to read the text.
The curator from the Women's Museum Bonn, Bettina Bab, has proposed a virtual exhibition to IAWM. The IAWM Board was happy to accept and seven IAWM members agreed to participate.
List of participating museums:
Gender Museum of Korea (initiative)
Overview of the exhibition content:
Sisters in Spirit

Elisa von der Recke (1754-1833) und Louise von Anhalt-Dessau (1750-1811)

Text: Bettina Bab, Frauenmuseum Bonn

The "Muses" take the first steps towards Cultural Participation

Ottilie von Goethe (1796-1872) and Adele Schopenhauer (1797-1849)

Text: Bettina Bab, Frauenmuseum Bonn

The International Association of Women's Suffrage

Aletta Jacobs (1854-1929 and Carri Chapman Chat (1859-1947)

Text: Bettina Bab, Frauenmuseum Bonn

Costa Rican Teachers and Communist Activists

Carmen Lyra (1887 – 1949) and Luisa González Gutiérrez (1904 – 1999)

Text: Claudia Mandel Katz, Museo de las Mujeres, Costa Rica

Argentine Women in the Feminist Struggles

Alfonsina Storni (1892-1938) and Salvadora Medina Onrubia (1894 – 1972)

Text: Graciela Tejero, Museo de la Mujer, Buenos Aires

The Angels of Pervyce

Elsie Knocker (1884 -1978) and Mairi Chisholm (1896 -1981)

Text: Terri Bell-Halliwell, inVISIBLEwomen United Kingdom

Surrealist women in Mexico

Leonora Carrington (1917- 2011), Remedios Varo (1908 – 1963) and Kati Horna (1912 – 2000)

Text: María María Acha-Kutscher, HerstoryMuseum, Spain

Initiators and "motor" of the network of women's museums

Sigird Prader and Astrid Schönweger

Text: Sigrid Prader, Women's Museum Merano

Tell me about it: Friendship is solidarity in action

Online Storytelling Café in Times of Corona

Text: Dr.med. Stefanie Schmid-Altringer, www.erzaehlcafe.net

Long live Korean Independence!

Kim Maria (1892 – 1944) and Hwang Esther (1892 – 1971)

Text: Kyehyeong Ki, Gender Museum of Korea

Equal exchange as scientists and friends
Ruth Benedict (1887-1948) and Margaret Mead (1901-1978)
Text: Judith Mittelberger, Women's Museum Merano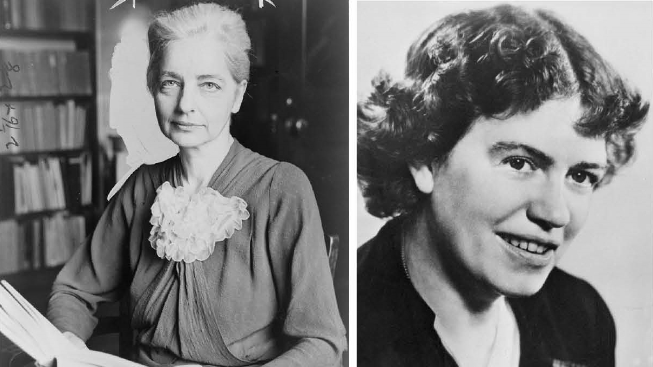 Bettina Bab introduces the exhibition: