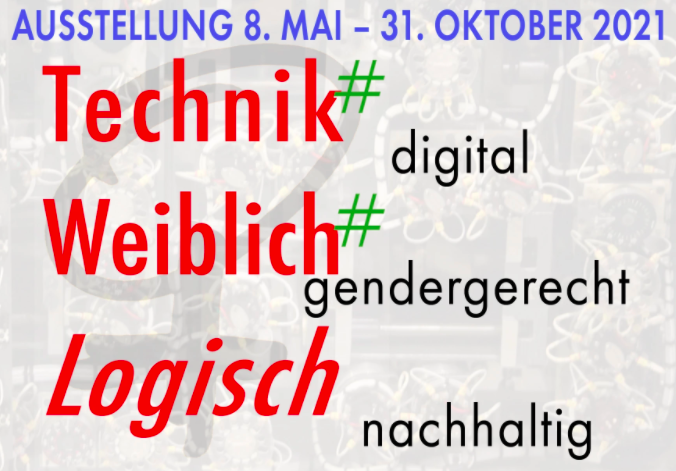 The International Dialogues in the Museum Women's Culture Regional – International on May 28 and 29 will take place virtually this year! Technology#Female#Logical. Digital. Equitable. Sustainable. Please ask for registration and you will get the link for participation: info@frauenindereinenwelt.de
Women in One World. Museum Women's Cultures Regional – International
in cooperation with the Municipal Development Office of the City of Fürth
Virtual "International Dialogues in the Museum" on 28th and 29th May 2021
Friday, 28th May,6pm – 8pm Introductory lecture (in German)
Prof. Dr. Ute Schmid, University of Bamberg
Introduction to Artificial Intelligence – and how come AI systems can have a gender bias.
Artificial Intelligence (AI) is finding its way into an increasing number ofareas ofwork and life. Growing numbers of AI models derived from data are being applied – most of them appearing to be black boxes. Why is it important that people can understand the reason an AI system makes a certain decision and that the basis of such decisions are adjustable? What can happen when data is used unreflectively to derive models will be illustrated by examples of gender bias.
Prof. Dr. Ute Schmid is the professor of Cognitive Systems at the University of Bamberg. . For more than 15 years, she has represented the field of artificial intelligence in research and teaching. For her commitment to promoting girls and women in the computer sciences, she won the 2018 Minerva Gender Equality Award from Informatics Europe for her university.
Saturday 29th May11am – 1pm (in English)
Round table: Promoting the next generation of women for STEM degree programs
Prof. Dr. Olfa Helal Helali, Head of the Institute of Mechatronics, ISET Djerba, Midoun
Prof. Mukaram Abbas, An-Najah National University, Nablus (not yet confirmed) )
Prof. Dr. Beatrice Dernbach, technology focused journalism and PR, Technische Hochschule Nuremberg
Ina Sinterhauf, Project: Living Engineering Together, Coburg University of Applied Sciences and Arts
Dr. Ursula Köhler, Section Women and Computer Science, German Informatics Society
Moderation: Ruba Ghanem, Curator. Technology#Female#Logical
Saturday 29th May 3pm – 5pm (German&English)         
Project showcase "Digital: Gender Equitable and Sustainable".
Presentation of university projects from Midoun and research results displayed in the museum
Moderation: Philipp Abel, Municipal Development Office, City of Fürth
Register at info@frauenindereinenwelt.de to receive a link to the online event.
Participating in all three events is free of charge.
Take a look at the video of the exhibition opening of Technology#Female#Logical: