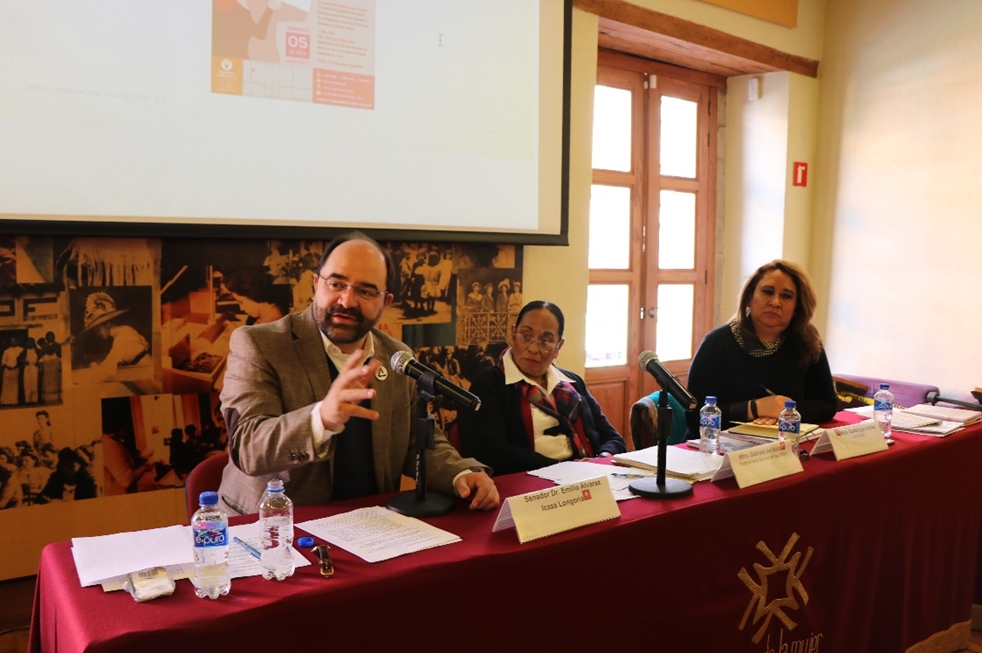 On January 5th, Senator Emilio Álvarez Icaza Longoria presented at the Women's Museum the conference "Human Rights and Political violence". He was accompanied by Dr. Gabriela del Valle, Vice President of National Affairs of FEMU and Dr. Guadalupe Valdés, member of our federation.
During his presentation, he gave a historical account of the struggle of the women for their political rights, from Olympe de Gouges in the French Revolution, until the Convention against all Forms of Discrimination against Women (CEDAW).
In addition, Álvarez Icaza showed how women's rights have been reflected, step by step, in the dogmatic Constitutions around the world. However, he stressed the nature aspirational of such postulates and the challenge of putting them into practice and to become public policies.
The human rights defender stressed that a real Democracy is not only the exercise of the right to vote, but the exercise of rights, in everyday life. This is how the current dilemma is no longer equality before the law but equality in the exercise of the rights.
He stressed that violence is the main tool of machismo to maintain the dominance of man over woman. He concluded that there is a long way to fight political violence, since despite the existence of legal norms aimed at gender equality, in practice they are still viewed as how gifts of power, without recognizing the full capabilities of women to access public office.
GWI News
Each month we translate into Spanish and inform our associates of the activities carried out by Graduate Women International.
Museum Activities
During the month of January, the following activities were carried out at the Women's Museum of Mexico City: 7 courses and workshops, 3 conferences, 3 editorial presentations of books, 4 reproduction of genre cinema films, 4 reproduction of youth club cinema films, 1 Night of Museums and 1 movie reproduction of the Mexican film exhibition circle.
Our most important event was the Discussion Table on "Human Rights and Political Violence", integrated by Gabriela del Valle (FEMU), Guadalupe Valdés (FEMU) and Senator Emilio Álvarez Icaza Longoria. In this event they recalled the progress that women's political rights have made in the country, emphasizing all the efforts that need to be made.
In this month we received a total of 1,380 people, of whom 902 were women and 478 men; and 330 young people and 1050 adults
Radio Programs
We produce a weekly radio program entitled: "Mujeres a la Tribuna", (Women to the Stand), broadcast nationally by the Mexican Institute of Radio (IMER, in Spanish), coordinated by Historian Patricia Galeana, PhD, and presented by Lourdes Enríquez, M.A. FEMU is the first organization of the Civil Society to have a program on Ciudadana 660 (Former Radio Ciudadana 660 AM) of the Mexican Institute of Radio, IMER.
Social networks
Twitter:
@FEMUAC
@mujeresatribuna
@museodelamujer
Facebook:
www.facebook.com/Mujeresalatribuna