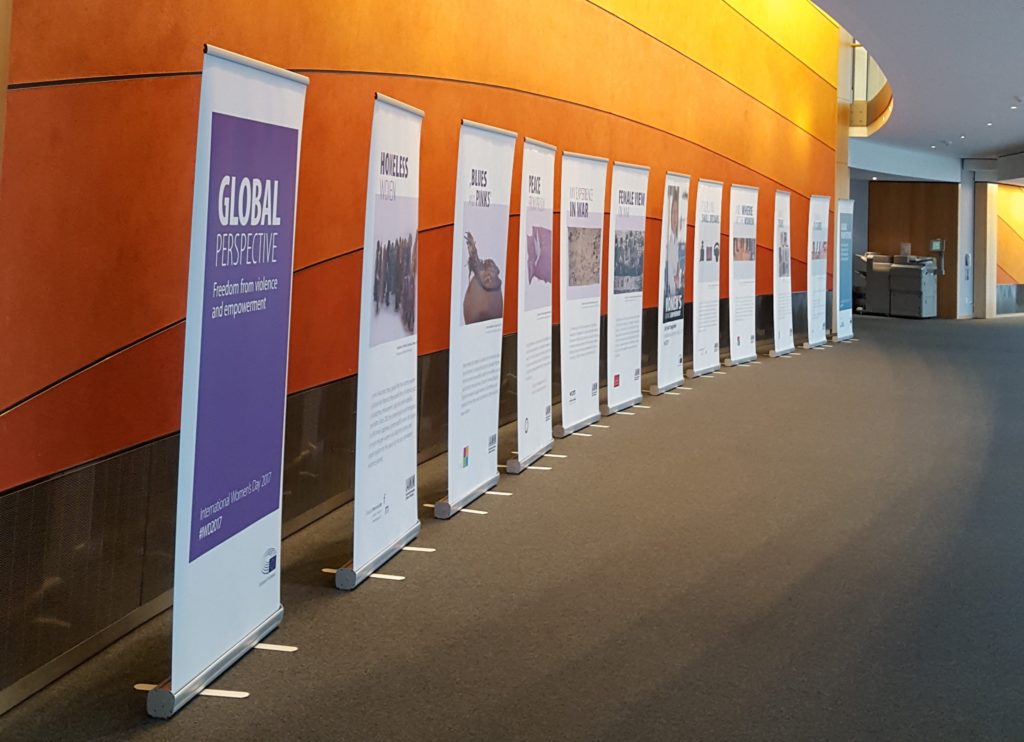 On International Women's Day 2017 we had the chance to present IAWM through an exhibition at the European Parliament.
The European Parliament's Committee on Women's Rights and Gender Equality organized a global forum for gender equality leaders from the European Union Members States and beyond to discuss the topic "Women's Economic Empowerment. Let's Act Together!"
IAWM has been invited to embed this two-day-event culturally. Images of artifacts and artworks emphasized the themes of the workshops: women and technology, violence against women, work-life-balance, gender-sensitivity in different countries, and the attainment of UN development goals. 12 members of IAWM from 11 countries in America, Africa, Asia and Europe contributed in the exhibition. Leaflets with further information in four languages (English, German, French, Spanish) accompanied the exhibition and can be downloaded here: Folder IAWM Work 17×23-printfile.
The director of the women's museum Merano Sissi Prader accompanied the coordinator of IAWM, Astrid Schönweger, to Brussels. During the event Schönweger presented the activities and significance of IAWM and the women's museums worldwide.
From 20th to 24th March part of the exhibition travelled to New York. It was installed at the European Parliament side event of the 61st UN Commission on the Status of Women.