The international exhibition Headscarf as a cultural signifier opened in the WomeN'S Museum of Novi Sad, Serbia on May 18, 2022, as part of the Novi Sad-European Capital of Culture 2022 program, and will last until the end of June 2022.
The project is managed by the WomeN'S Museum of Novi Sad in cooperation with the Museum of Women's Culture Regional-International, Fürth, Germany (Frauen in der Einen Welt/Museum FrauenKultur Regional-International) and the Museum of Vojvodina.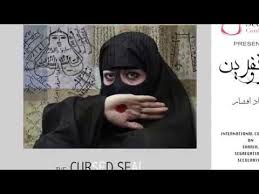 The curators of the Museum of Women's Culture Regional-International Gaby Franger, Elisabeth Bala and Tijana Jakovljević-Šević, will present their long-term exhibition project, which, through a micro-segment of women's clothing and as a way of inscribing cultural identity, shows and reflects cultural diversity in European, non-European, and local contexts. The curator of the Museum of Vojvodina, Katarina Radisavljević, responds to the initial story with an exhibition about the traditional and modern attitudes of women in Vojvodina towards their hair and it's covering and presentation. The research on the culture of wearing the headscarf in different ethnic communities in Vojvodina  is presented through typical examples of the role of the headscarf in creating the collective identity of communities in multicultural societies.
As a kind of meta-perspective, the WomeN'S Museum program editors, Vera Kopicl and Silvia Dražić included works of contemporary art practice (Tanje Ostojić, Persefoni  Myrtsou Mahshad Afshar, Nejra Latić Hulusić, Sabrina Begović-Ćorić), that show how authors critically rethink and reinterpret traditional female roles and functionalize them in a subversive feminist reading of current social phenomena.
A unique communication framework for multiple presentations and interpretations of the headscarf as a cultural sign, was set by Tijana & Mila Popović through the design of the exhibition, models, dolls, and interior elements made from recycled materials.
During the exhibition, there will be accompanying programs such as workshops, screenings of documentaries, and experimental films and panels that thematize the culture of wearing a headscarf through different perspectives: historical, social, political, as a segment of everyday routines.
The project is supported by Foundation "Novi Sad – European Capital of Culture" and Goethe Institut, Belgrade, Serbia.