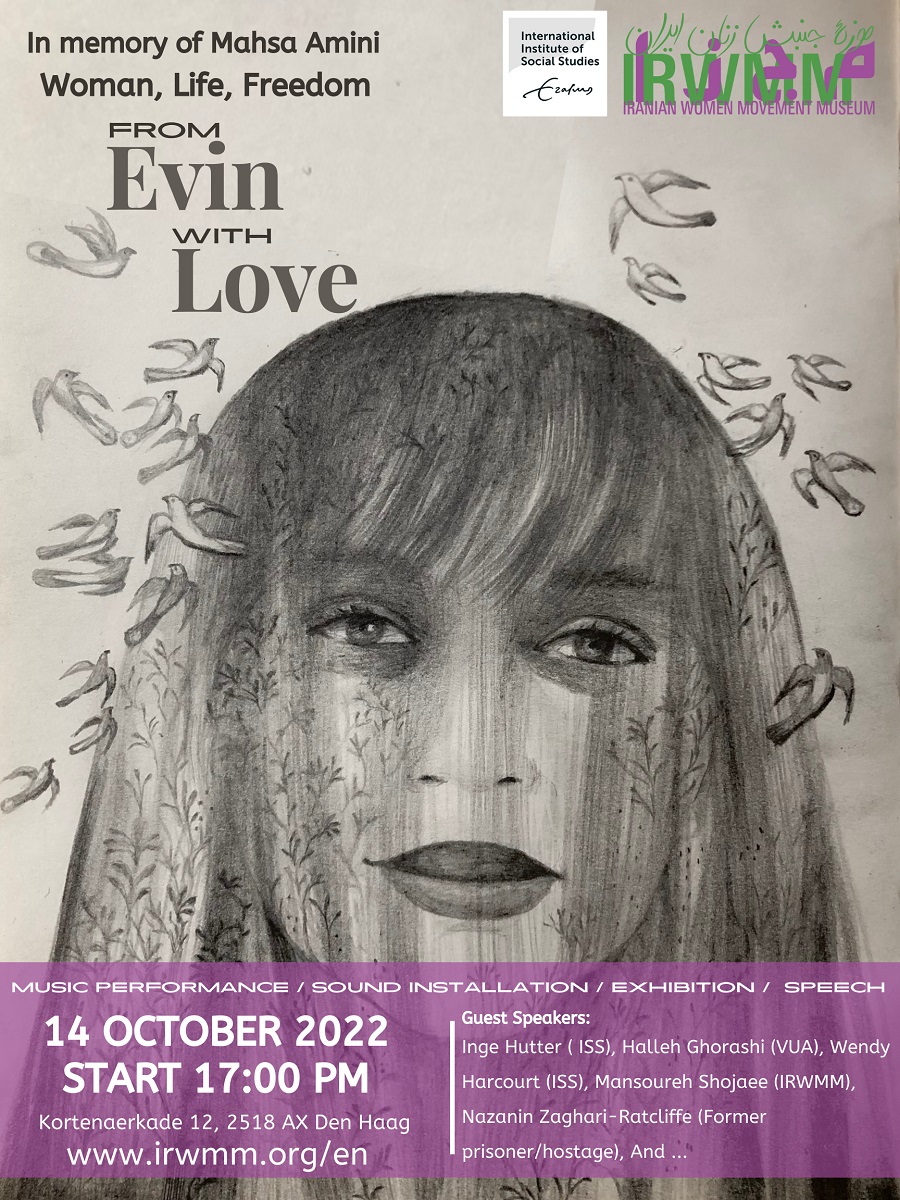 From Evin with Love: 5th Journey, 14-28 October 2022. 70th anniversary of ISS
Dedicated to Mahsa Amini and to " Women, Life, Freedom"
It was on the 8th October when our colleagues, Inge and Melanie Hartman, planned for us to pack and deliver our collection to the Institute of Social Studies (ISS). It was on the same day that we, a group of Iranian/Dutch activists, politicians, academics, and journalists, organised a demonstration in solidarity with the current movement in Iran "Woman, Life, Freedom"!
 While we were overwhelmed with anxiety and sorrow because of the number of youths and young people murdered in Iran, as well as the number of the arrested protesters, the arrival of our collection inspired us to build upon the combination of our commitments to both, "From Evin with Love" and  "Women , Life, Freedom"!
Achieving this double dream was possible because of two important reasons. It happened because the key phrase underpinning the 70 year anniversary of ISS was: "Reconnected". It also happened because of an enthusiastic  solidarity with "Women, Life, Freedom"!
Preparing and Installation day
Our team included IRWMM group, ISS students and staff and ISS  Scholas volunteers,  worked together on the 10th ,12th ,and 13th of October . They worked under the supervision of Sandy Kamerling for all matters related to installation, design, sound, and lighting; and with Mansoureh, who prepared the plot for an interactive show.
Opening event
Our event started with a video of Dutch dance to the tune of the beautiful anthem,
"Baraye" to present "Women, Life, freedom". This was followed by a beautiful musical performance by jazz pianist Emma Robson.
It was an honour to have Prof. Dr Inge Hutter, ISS rector, open the event with her welcoming words in which she sincerely expressed her solidarity with Iranian women and the ongoing protests in Iran.
Prof. Halleh Ghorashi from the VU in Amsterdam started her speech by defining what ongoing events in Iran aimed towards realising the slogan of "Women, Life, Freedom".
She continued her speech by introducing the "From Evin with Love" project, which she supported and supervised with the Social Studies faculty the VUA.
ISS Professor Wendy Harcourt started her speech with a solidarity message for the Iranian women protesting in the streets and demanding their freedom. She also expressed appreciation towards Mansoureh for her role in bringing the Iranian Women's Movement's discourses and images to the ISS.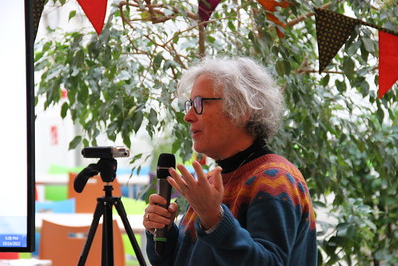 Appreciation was shown for ISS' support and the sincere collaborative efforts of, Martin Block and Sandy Kamerling. Mansoureh Shojaee, founder of IRWMM, dedicated the 5th exhibition to Mahasa Amini.
 We have dedicated this year's exhibition to Mahsa Amini and hundreds of other beautiful female bodies who, embroidered in their femininity, we have lost in recent protests". She followed her talks by making reference to the first inspiration behind the initial making of the exhibition, as well and the significant help received from Martin Block of ISS in 2017." When the International Asscociation of Women's Museums asked me for photo samples to join the European Parliament's Committee on Women's Rights, I immediately found myself in Martin Blok's office, watching Martin passionately move his camera lens over Nasrin Sotoudeh and Narges Mohamadi's handicrafts to take presentable photos for this mission, I never expected to see the project grow to what it has become today.
She also mentioned the effective support of prof. Dr. Halleh Ghorashi from VUA:
The research project to collect the works of imprisoned Iranian women activists was warmly received by the Department of Social Studies of Vrije University under the professional and emotional supervision of Prof Dr. Halleh Ghorashyi
The speech was followed by Fatemeh who guided the audience through an unexpected and interactively styled performance which had been prepared by Mansoureh.
After two rounds of tours, there was a piano performance by Emma Robson.
Nazanin Zaghari, the former prisoner/hostage of Islamic Republic in Iran, presented her testimonies about her6 years of imprisonment and life in Evin Prison. She described the peaceful and friendly life among women prisoners from across the political spectrum in Evin Prison.
Referring to the Baha'i and Zoroastrian prisoners, Nazanin highlighted the potential of accepting "dissidents" among the prisoners. Her words about her fellow Baha'I prisoners, Mahosh Shahriari, Fariba Kamalabadi, and others conjured a beautiful  image of the libertarian and pluralist atmosphere within the Women's block of Evin, also reflecting a wish raised by the "Women, Life, Freedom" movement.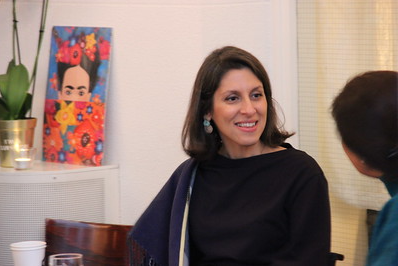 Karlijn van der Vort, the representative of the Dutch  Baha'i community was impressed by Nazanin 's talk and  presented The Dutch Bahai' community's solidarity and support with the "Women, Life, Freedom" movement in Iran.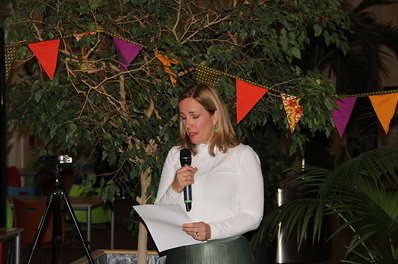 The closing remarks of Farah Karimi, member of the Dutch Senate were impassioned. She started by praising the interactive performance «From Evin With Love » and thanking Professor Inge Hutter and ISS for supporting the exhibition of the Iranian Women's Movement Museum. She also express her gratitude for ISS' solidarity with the "Woman, Life,Freedom"  movement. Farah gave a brief report about the efforts of Dutch society in expressing solidarity and referred directly to the issue of the Iranian people's struggles for women's liberation and human dignity.
Farah's speech ended with her reading a note by Nasrin Sotoudeh. In this note, Nasrin said that her daughter Mehravah was banned from leaving Tehran  in the International Airport on October 4th. Farah reminded us that Mehraweh was planning to come to Holland to continue her studies, and if she had not been banned to leave, she would have been among everyone at the event!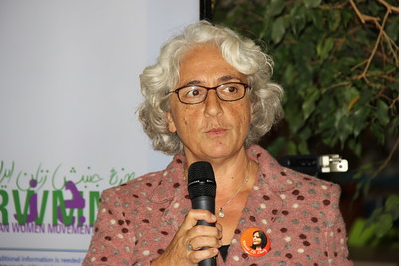 At the end of the evening, Martin Blok expressed gratitude on behalf of the ISS and presented his special thanks to all the volunteers that helped us put on this unforgettable event.
Visiting days from 14-28 October
Over two weeks we had several visitors including: students, teachers, and ISS staff. Furthermore, we hosted several visitors among our Iranian and Dutch friends, as well as friends from other countries.
Last day of exhibtion
On 28th October, Sandy , Sushruta, and Mansoureh organised the packing of the collection with the help of our volunteers. This work ended with a friendly gathering in the Butterfly Bar.
Goodbuy ISS
 Goodbye ISS, goodbye to our lovely colleagues and volunteers.  We will be back  once our new exhibition is done! May be back to show you a new exhibition in the coming years.
For now, we should continue making our trips city after city, country after country. We are the traveling storytellers of the Iranian women's movement.
May the movement achieve its goals under the most civilised, modern, beautiful and "Glocal"[i] slogan " Woman, Life , Freedom"!
[i] "Glocal" is  a phrase made by Prof.Dr. Nayereh Tohidi, Iranian feminist and IRWMM advisory board member. It  expresses  the Global and Local aspects of the Iranian women's movement.