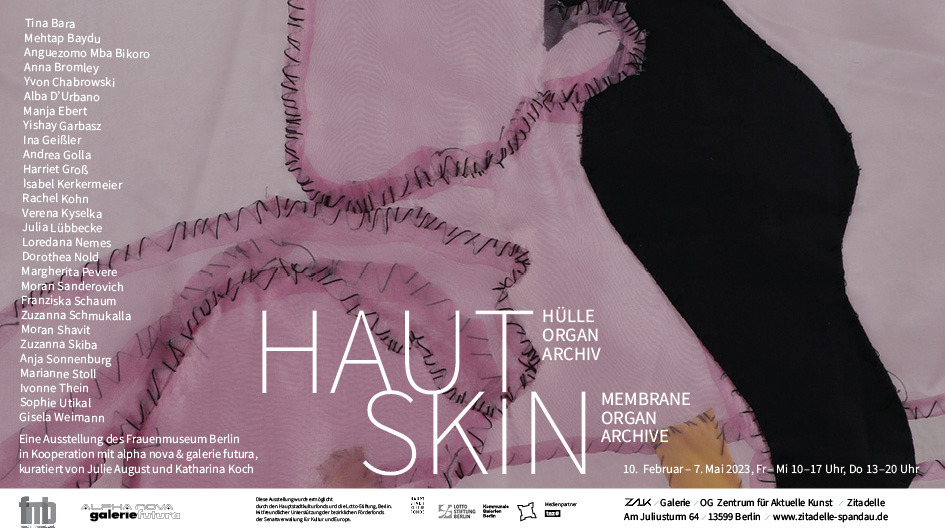 Tomorrow the women's museum Berlin opens the exhibition "Skin – Membrane, Organ, Archive".
SKIN – Membrane, Organ, Archive presents works by women* artists based in Berlin who explore the thematic complexity of skin. This makes the interweaving of e.g. sexism, racism, classism, ageism visible, bears witness to individual and collective archiving practices and, as a sensual, resistant and at the same time vulnerable organ, becomes the starting point for artistic analysis. In this way, the exhibition counters the male-dominated location—the Citadel—with feminist counter-narratives. Accompanying events include a book launch, lectures, artist talks, guided tours, film presentations and performances.
Exhibtion description in German:
HAUT – HÜLLE, ORGAN, ARCHIV bringt Werke von 28 internationalen in Berlin lebenden Künstlerinnen* zusammen. In Video, Audio, Fotografie, Skulptur, Malerei, Zeichnung, Collage, Installation und Performances setzen sie sich mit dem Thema Haut auseinander und konfrontieren dieses zugleich mit dem aufgrund seiner Historie patriarchal geprägten Ausstellungsort – der Zitadelle Spandau
Eine Ausstellung des Frauenmuseum Berlin e.V. in Kooperation mit alpha nova & galerie futura, kuratiert von Julie August und Katharina Koch.
Mit der thematischen Vielschichtigkeit von Haut, die die Verwobenheit von Sexismus, Rassismus, Klassismus, Altersdiskriminierung und Ableismus sichtbar werden lässt, sowie von individuellen und kollektiven Archivierungspraxen zeugt und gleichzeitig als sinnliches, resistentes und zugleich verwundbares Organ zum Ausgangspunkt künstlerischer Analyse wird, setzt die Ausstellung dem männlich geprägten Ort feministische Gegenerzählungen entgegen.
Mit Arbeiten von Tina Bara, Mehtap Baydu, Anguezomo Mba Bikoro, Anna Bromley, Yvon Chabrowski, Alba D'Urbano, Manja Ebert, Yishay Garbasz, Ina Geißler, Andrea Golla, Harriet Groß, Isabel Kerkermeier, Rachel Kohn, Verena Kyselka, Julia Lübbecke, Loredana Nemes, Dorothea Nold, Margherita Pevere, Moran Sanderovich, Franziska Schaum, Zuzanna Schmukalla, Moran Shavit, Zuzanna Skiba, Anja Sonnenburg, Marianne Stoll, Ivonne Thein, Sophie Utikal, Gisela Weimann
Am Juliusturm 64, 13599 Berlin
Eröffnung am 9.2.2023 um 19h
Ausstellungsdauer: 10.2.–7.5.2023
Fr – Mi 10–17 Uhr, Do 13–20 Uhr
www.zitadelle-spandau.de